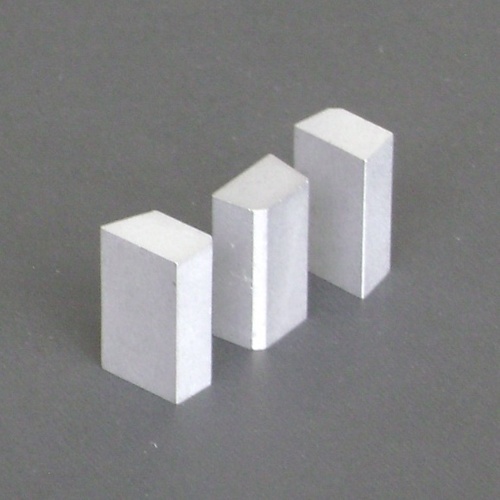 Widia Carbide Inserts
Product Description
The Widia Inserts for carbide brazed tips are suitable for cutting metal, stone and other material. When using the tungsten carbide brazed tips, choosing suitable material grade of inserts is very important, it is directly regarding to the machining cost and efficiency; machining difference material should choose difference grade of inserts, for example, they are difference grade machining carbon steel and alloy steel, cast iron and steel. You should understand the physical property and the rang of application for each grade, and then choosing a suitable grade for you.
Benefits of utilization

Widia Carbide Inserts are the replaceable and usually index-able bits of cemented carbide utilized in machining cast iron, steels, nonferrous materials and high temperature alloys. The inserts enable quicker machining and leave finer finishes on all metal parts. Irrespective of the component size, design or material, these insure the flawless manufacturing productivity. Capable to suit all specific machining procedures, these assist you to stay in the lead of the competition. Increasing your productivity, these Widia Carbide Inserts help the users in saving money and provide the reliability as well as greatest versatility in their working procedures.

Products specification:
Manufacturer: Better Carbide Co., Limited.
Place of Origin: Made in China.
Package: Neutral packing
Delivery time: 20 to 30 days.
Material: Tungsten carbide
Samples available

Tungsten Carbide Material Grade
| | | | | |
| --- | --- | --- | --- | --- |
| ISO Code | Grade | Density (g/cm3) | Hardness (HRA) | TRS Mpa |
| K05 | YG6X | 14.8-14.9 | 91-92 | 2080 |
| K10 | YG6A | 14.8-14.9 | 91.5-92.5 | 2180 |
| K20 | YG6 | 14.8-14.9 | 90.5-91.5 | 2280 |
| K30 | YG8 | 14.75-14.85 | 89.5-90.5 | 2380 |
| K35 | YG10 | 14.6-14.75 | 88.5-89.5 | 2580 |
| K40 | YG15 | 14.0-14.2 | 86-87 | 2780 |
| M10 | YW3 | 12.75-12.95 | 91.5-92.5 | 1800 |
| M20 | YW2 | 12.95-13.15 | 90.5-91.5 | 2000 |
| P20 | YT14 | 11.4-11.5 | 91-92 | 1600 |
| P30 | YT5 | 12.85-13.05 | 90-91 | 1800 |