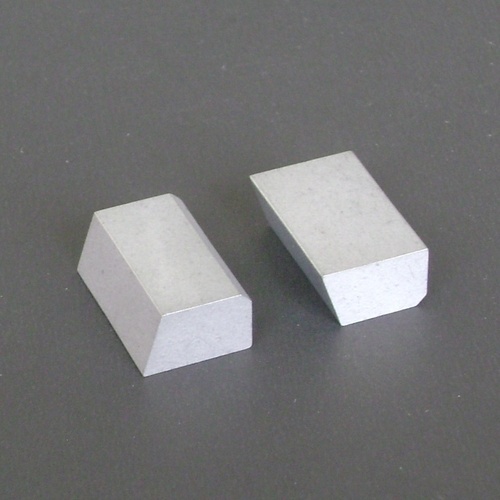 Tungsten Carbide Tips
Product Description
Tungsten Carbide Tips
The C16 Tungsten Carbide Tips are suitable for cutting metal, stone and other material.
When using the tungsten carbide brazed tips, choosing suitable material grade of inserts is very important, it is directly regarding to the machining cost and efficiency; machining difference material should choose difference grade of inserts, for example, they are difference grade machining carbon steel and alloy steel, cast iron and steel.
You should understand the physical property and the rang of application for each grade, and then choosing a suitable grade for you.
Physical composition and properties :

We are offering Tungsten Carbide Tips, which are the common materials applicable on types of cutting implements such as saw blades, drill bits, router bits, dental drilling tips, lathe bits etc. The products' variety is popular, that these stay sharper longer in comparison to other materials. These are made of grains of carbon & tungsten and are held in collaboration in an array of metals such as nickel or cobalt. The tips made of these materials can be made accessible in different grades. Provided Tungsten Carbide Tips can be known as a the tips made of powdered metal because tungsten is a metal. These are approximately doubly as strong as steel and are highly abrasion resistant with the capability to hold up higher temperatures.

Applications :


Cutting tools for machining
Mining
Nuclear
Sports usage
Surgical instruments
Jewelry etc.
Products specification:
Manufacturer: Better Carbide Co., Limited.
Place of Origin: Made in China.
Package: Neutral packing
Delivery time: 20 to 30 days.
Material: Tungsten carbide
Samples available

Tungsten Carbide Material Grade:
| | | | | |
| --- | --- | --- | --- | --- |
| ISO Code | Grade | Density (g/cm3) | Hardness (HRA) | TRS Mpa |
| K05 | YG6X | 14.8-14.9 | 91-92 | 2080 |
| K10 | YG6A | 14.8-14.9 | 91.5-92.5 | 2180 |
| K20 | YG6 | 14.8-14.9 | 90.5-91.5 | 2280 |
| K30 | YG8 | 14.75-14.85 | 89.5-90.5 | 2380 |
| K35 | YG10 | 14.6-14.75 | 88.5-89.5 | 2580 |
| K40 | YG15 | 14.0-14.2 | 86-87 | 2780 |
| M10 | YW3 | 12.75-12.95 | 91.5-92.5 | 1800 |
| M20 | YW2 | 12.95-13.15 | 90.5-91.5 | 2000 |
| P20 | YT14 | 11.4-11.5 | 91-92 | 1600 |
| P30 | YT5 | 12.85-13.05 | 90-91 | 1800 |