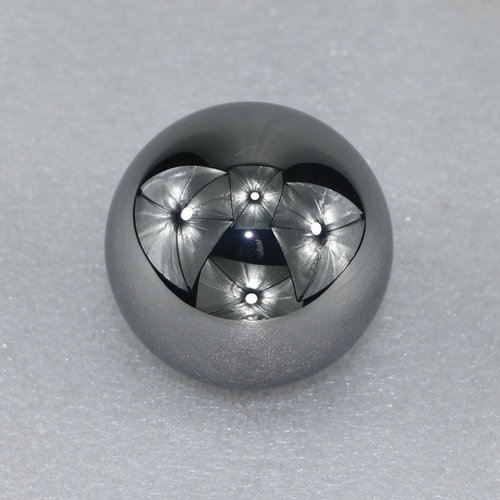 Tungsten Carbide Ball
Product Description
We have earned extreme recognition in the worldwide market for providing a vast range of best grade quality Tungsten Carbide Balls. They are manufactured using the powder metallurgy process in which carbide powdered form is precisely mixed with cobalt with the help of ball mills. To hold the powder during compression process, utilization of powered material is done. The Tungsten Carbide Balls are used in several industries for carrying out various applications and are well known for their high strength and toughness.

The balls have a high impact resistance, better precision, withstand against high temperature and rust proof structure. They are utilized in pumping oil in different industries having sea oil wells, viscous oil wells, sulfur resistant oil wells and others.

The Tungsten Carbide balls have multiple uses such as in meters, spraying machines, instruments, precise bearings, pens, machinery parts, extruding hole, pumps, fans, hardness measuring instruments and many others. They perform effectively and efficiently for a long lasting time span.

Sizes of Tungsten Carbide Ball:

Application:

bearings
ball screws
valves and flow meters
pen
spraying machines
pump
machinery parts
oil
hydrochloric zcid lab
hardness measuring instrument and so high-end industry
Details:
| | | |
| --- | --- | --- |
| Millimeter | Inch | Unit price (US Dollar) |
| 4.76 | 3/16" | 0.3 |
| 5.56 | 7/32" | 0.45 |
| 6.35 | 1/4" | 0.63 |
| 7.14 | 9/32" | 0.85 |
| 7.94 | 5/16" | 1.1 |
| 8.73 | 11/32" | 1.46 |
| 9.53 | 3/8" | 1.9 |
| 11.11 | 7/16" | 3.01 |
| 12.7 | 1/2" | 4.5 |
| 14.29 | 9/16" | 6.41 |
| 34.98 | 1-3/8" | 35.11 |
| 42.86 | 1-11/16" | 64.86 |
| 50.8 | 2" | 120.6 |