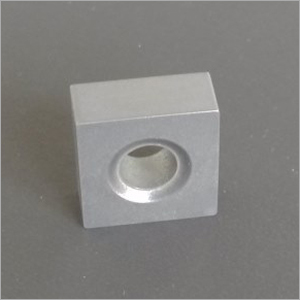 Stone Cutting Tools
Product Description
Stone Cutting Tools for Chain Saw Machine is made by Tungsten carbide alloy. We produce a lot of size stone cutting inserts including the machine type of multi-blade Hydraulic stone cutter, Bridge cutting machine, Hydraulic Bridge saw machine and Chain Saw Cutting Machine. The stone cutting inserts that apply to Chain Saw Machine are the one of our main products.
We provide three size of stone cutting tips; 12.70mm x 12.70 mm x any height, 13.10mm x 13.10 mm x any height, 13.30mm x 13.30mm x any height.
Uses and benefits :

Offered Stone Cutting Tools are expeditiously used to cut the stones in productive pieces. Featured with blunt cutting ends, these insure acute cutting without distortion and extra efforts. Utilized for finely dressing the softer stones, these are appreciated for their uniform and sharp performance in cutting. These geometrically equal tools can be carried out via the assessment of their cutting behaviour as well mechanical strength. The products can complete their task with a needed less force. The Stone Cutting Tools are offered with a highly efficient wear rate. The tools have uniform sizes, which enable them to function in an effective manner.

Products specification:
Manufacturer: Better Carbide Co., Limited.

Place of Origin: Made in China.

Package: Neutral packing

Delivery time: 20 to 30 days.

Material: Tungsten carbide

Samples available
Tungsten Carbide Material Grade:
| | | | | |
| --- | --- | --- | --- | --- |
| ISO Code | Grade | Density (g/cm3) | Hardness (HRA) | TRS Mpa |
| K05 | YG6X | 14.8-14.9 | 91-92 | 2080 |
| K10 | YG6A | 14.8-14.9 | 91.5-92.5 | 2180 |
| K20 | YG6 | 14.8-14.9 | 90.5-91.5 | 2280 |
| K30 | YG8 | 14.75-14.85 | 89.5-90.5 | 2380 |
| K35 | YG10 | 14.6-14.75 | 88.5-89.5 | 2580 |
| K40 | YG15 | 14.0-14.2 | 86-87 | 2780 |
| M10 | YW3 | 12.75-12.95 | 91.5-92.5 | 1800 |
| M20 | YW2 | 12.95-13.15 | 90.5-91.5 | 2000 |
| P20 | YT14 | 11.4-11.5 | 91-92 | 1600 |
| P30 | YT5 | 12.85-13.05 | 90-91 | 1800 |