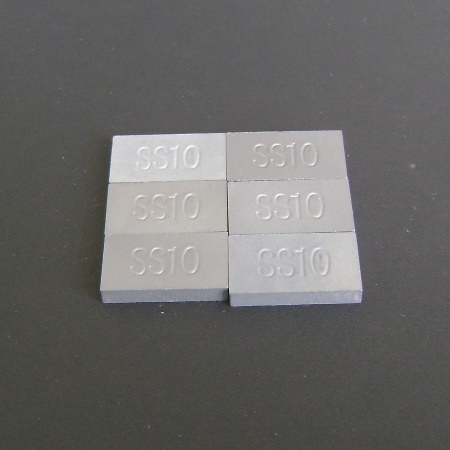 Stone Cutting Tips
Product Description
The SS10 Tungsten Carbide Stone Cutting Tips for stone cutting machine has long life to cut stone, just like marble, granite, limestone, sandstone, quartzite, hexagon, travertine and onix.
Our SS10 tips are widely used in Quarry Machine over the world.
Stable performance, convenient operation, higher efficiency and save mining cost.
Specialty and applications:

We deal in best quality and highly professional Stone Cutting Tips, employed for the procedure of marble cutting. The products have been tested on the parameters of hardness, density, magnetic saturation and transverse rupture strength. Provided with stable as well as reliable quality, these are made from 100% tungsten carbide unprocessed materials and come after passing the in-process as well as final inspection. The tips are to be welded onto the holding device, employed on the stone cutting apparatuses for the processing of different types of stones such as sandstone, tufa stone, limestone, marble etc. Provided Stone Cutting Tips are used in the pits, for the cutting of several types of stone.

Products specification:
Manufacturer: Better Carbide Co., Limited.

Place of Origin: Made in China.

Package: Neutral packing

Delivery time: 20 to 30 days.

Material: Tungsten carbide

Samples available
Tungsten Carbide Material Grade
| | | | | |
| --- | --- | --- | --- | --- |
| ISO Code | Grade | Density (g/cm3) | Hardness (HRA) | TRS Mpa |
| K05 | YG6X | 14.8-14.9 | 91-92 | 2080 |
| K10 | YG6A | 14.8-14.9 | 91.5-92.5 | 2180 |
| K20 | YG6 | 14.8-14.9 | 90.5-91.5 | 2280 |
| K30 | YG8 | 14.75-14.85 | 89.5-90.5 | 2380 |
| K35 | YG10 | 14.6-14.75 | 88.5-89.5 | 2580 |
| K40 | YG15 | 14.0-14.2 | 86-87 | 2780 |
| M10 | YW3 | 12.75-12.95 | 91.5-92.5 | 1800 |
| M20 | YW2 | 12.95-13.15 | 90.5-91.5 | 2000 |
| P20 | YT14 | 11.4-11.5 | 91-92 | 1600 |
| P30 | YT5 | 12.85-13.05 | 90-91 | 1800 |