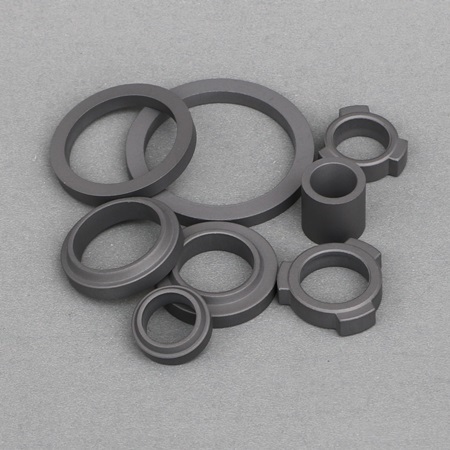 Silicon Carbide Mechanical Seal Rings
Product Description
Silicon carbide mechanical seal rings
Silicon Carbide Seal Ring for Mechanical Seal possess the property of high mechanical strength, high thermal conductivity, good self-lubrication, excellent resistant-corrosion, taken into use like bearings, seal faces, and tubes in spacecraft, metallurgy, machinery, dyeing and printing, foodstuff, auto industry, pharmaceutical, and so on. Once the sic faces are united with graphite faces the friction is the slightest and they can be shaped into mechanical seals that are able to function in greatest working requirements. These are best suited for sealing the chemical fluids medium like Chemical Fluid like liquidized hydrocarbon, oil, alkali, acid, pulp water, etc.

Features:

Appropriate for high-temperature, high-speed and high-pressure requirements
Sealing performance is quite reliable and stable
Material has good abrasion resistance and works as good barriers against alkali, acid, wear, and decay
These are able to work in the temperatures between -30℃ to 500℃
Silicon carbide also possess higher flexural strength, which makes these rings tougher to break
Specifications
:
Mediums to be sealed: The offered sealing components are used for sealing of solid granular substances, rust causing elements, oil and water.
Working environment: These seal rings act as protective barriers against wear, alkali, acid and decay.
Working Temperature: It ranges between -30℃ to 500℃
Application: These rings are used as indispensable parts of valve and pump
The material grade of silicon carbide mechanical seal rings,
Material advantage: All the materials used to manufacture silicon carbide rings have long functional life. The cost of MG1 grade material is same with the price of silicon carbide, though MG1 grade material possesses higher flexural strength than silicon carbide and rings made of this specific grade is quite tough to break.

| | | |
| --- | --- | --- |
| Grade | Density (g/cm2) | Hardness (HRA) |
| YG6 (ISO K20) | 14.9 | 91 |
| YG8 (ISO K30) | 14.8 | 89.5 |
| MG1 | 5.5 | 92 |
| MG2 | 9.5 | 89 |
| MG3 | 12.5 | 90.5 |
108 series silicon carbide mechanical seal rings:
| | | | | | | | |
| --- | --- | --- | --- | --- | --- | --- | --- |
| Model | OD mm | ID mm | H mm | Model | OD mm | ID mm | H mm |
| 108-18 | 27 | 19 | 4 | 108-45 | 56 | 46 | 5.5 |
| 108-20 | 29 | 21 | 4 | 108-50 | 62 | 51 | 5.5 |
| 108-22 | 31 | 23 | 4 | 108-55 | 67 | 56 | 5.5 |
| 108-25 | 34 | 26 | 4 | 108-60 | 74 | 61 | 6 |
| 108-28 | 37 | 29 | 4.5 | 108-65 | 79 | 66 | 6 |
| 108-30 | 29 | 31 | 4.3 | 108-70 | 86 | 71 | 6 |
| 108-32 | 42 | 33 | 4.5 | 108-75 | 91 | 76 | 6.5 |
| 108-35 | 44 | 36 | 5 | 108-80 | 99 | 81.5 | 6.5 |
| 108-38 | 49 | 39 | 5 | 108-85 | 104 | 86.5 | 9 |
| 108-40 | 50 | 41 | 5 | 108-90 | 109 | 91.5 | 9 |
| 108-45 | 56 | 46 | 5.5 | 108-95 | 114 | 96.5 | 9 |
| | | | | 108-100 | 119 | 101.5 | 9 |
109 series silicon carbide mechanical seal rings:
Rotary ring (Primary ring)
Stationary ring (mating ring)
Model
OD mm
ID mm
H mm
Model
OD mm
ID mm
H mm
109-18
23.8
19.5
6.5
109-18
27
19
4.3
109-20
26.8
21.7
6.5
109-20
29.2
21
4.3
109-22
27.7
23.8
7
109-22
31
23
4.3
109-25
31.4
26.8
7
109-25
34
26
4.3
109-28
35.5
30.5
7.5
109-28
38
29
4.3
109-30
37
32.5
7.5
109-30
40
31
4.3
109-32
39.2
33.8
8
109-32
42
33
4.3
109-35
42.2
36.7
8
109-35
45
36
4.3
109-38
46
40
8
109-38
50
39
5
109-40
49.1
42.5
8
109-40
52
41
5
109-43
52.1
45.5
8.5
109-43
55
44
5
109-45
54.6
47.9
9
109-45
57
46
5
109-48
56.9
50
8.5
109-48
60
49
5
109-50
58.8
52
8.5
109-50
62
51
5
109-53
62.2
55
9
109-53
66
54
5.5
109-55
63.9
57
8.5
109-55
67
56
5.5
109-60
70
63
8.5
109-60
73
61
5.5
109-65
79
66.2
6
109-65
75
67.5
9.5
109-70
85
71.2
6
109-70
79.8
72
9
109-75
90
76.2
6
109-75
84.9
77
9
109-80
97
81.2
6.5
109-80
90.5
82
9
109-85
102
86.5
7.5
109-85
96
87
10
109-90
107
91.5
7.5
109-90
101.6
93
10
109-95
112
96.5
7.5
109-95
107.3
98
10
109-100
117
101.5
7.5
109-100
112
103
10
109-110
127
111.5
7.5
109-110
123.6
113.5
11
1527 series silicon carbide mechanical seal rings:
| | | | | | | | |
| --- | --- | --- | --- | --- | --- | --- | --- |
| Model | OD mm | ID mm | H mm | Model | OD mm | ID mm | H mm |
| 1527-16 | 22 | 17 | 4 | 1527-60 | 70 | 62 | 5 |
| 1527-18 | 25 | 20 | 4 | 1527-65 | 75 | 67 | 5 |
| 1527-20 | 27 | 22 | 4 | 1527-70 | 80 | 72 | 5.5 |
| 1527-22 | 30 | 24 | 4 | 1527-75 | 85 | 77 | 5.5 |
| 1527-25 | 33 | 27 | 4 | 1527-80 | 90 | 82 | 5.5 |
| 1527-28 | 36 | 30 | 4 | 1527-85 | 95 | 87 | 6.5 |
| 1527-30 | 38 | 32 | 4 | 1527-90 | 101 | 92 | 6.5 |
| 1527-32 | 40 | 34 | 4 | 1527-95 | 106 | 97 | 6.5 |
| 1527-35 | 44 | 37 | 4.5 | 1527-100 | 111 | 102 | 6.5 |
| 1527-38 | 47 | 40 | 4.5 | 1527-105 | 117 | 107 | 7 |
| 1527-40 | 49 | 42 | 4.5 | 1527-110 | 122 | 112 | 7 |
| 1527-43 | 52 | 45 | 4.5 | 1527-115 | 127 | 117 | 7 |
| 1527-45 | 55 | 47 | 4.5 | 1527-120 | 132 | 122 | 7 |
| 1527-48 | 58 | 50 | 4.5 | 1527-125 | 137 | 127 | 7 |
| 1527-50 | 60 | 52 | 5 | 1527-130 | 142 | 132 | 7 |
| 1527-53 | 63 | 55 | 5 | 1527-135 | 147 | 137 | 8 |
| 1527-55 | 65 | 57 | 5 | | | | |