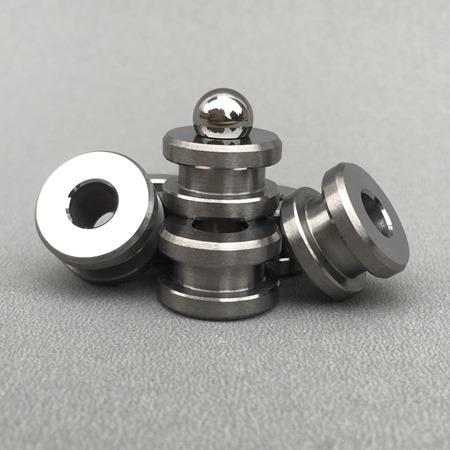 Gas Lift Valve Seats
Product Description
In mining industry, the tungsten carbide fabricated gas lift valve seats are used as essential parts of gas lift valve for procurement of crude oil from the drilled hole on the surface of the Earth. The gas lift method is considered to be the cost effective procedure to obtain oil from oil well. The technique of gas lift can be executed irrespective of the width of the oil well. As part of this process, gas is injected to the gas lift valve to minimize the weight of its oil tube and to decrease pressure level in order to quicken oil collection procedure
We are instrumental in producing valve seats for 1 Gas Lift Valve of standard specification with port size ranging between 1/8 to maximum 3/8.
The port size of the valve seats that we manufacture for 1 1/2 Gas Lift Valves of standard level are available in 1/8 to range option.
We also manufacture valve seats in tailor made configurations according to the chosen material and provided drawings by the customers.
The provided Tungsten Carbide Seats are utilized as important components for different types of oilfield Valves and Oil Field Equipments that include Wire line Retrivable (WLR) Injection Pressure Operated (IPO) Gas Lift valves and Conventional Gas Lift Valves to name a few.